Expertise
Discover what we do.
We're digital experts, a talented bunch, who've built an awesome agency and we're here to help you with your challenges.
Our goal is to make sure that you have the resources and support you need and work collaboratively to get results. We ensure that we are perfectly aligned and at one with your business and brand.
By getting to know your business intimately, we make sure our services are tailored to your specific needs and goals so you get the best results. There's no one size fits all at PRISM!
Design & Creative
UX / UI Design

We create great user experience and user interface designs for the web, mobile, and other digital platforms. Usability is more than simply designing something aesthetically pleasing – it's about understanding and meeting your users needs.

App Design

We design great apps. We're committed to designing apps that are easy to use and understand, which means you'll be able to build an app that people love using!

Web Design

We create exciting and bespoke website designs that make your business stand out. We know what works, and we'll make sure your site does too.

Branding

We design brands for companies, brands that reflect their values and vision. We help companies tell their story, make their point of difference clear, and stand out from the crowd.

Animation

Whether you need an animated explainer video or a web-based animation, we've got you covered. We can even help you with the script and storyboarding, if that's not your thing.

Graphics & Illustration

We create beautiful graphics and illustrations that will make your business stand out. We'll work with you to create something that gets your message across in the most effective way possible.
Development
Development

The planning process is key to our development team. Proper planning gives us the ability to approach the project in the right way. We utilise test drive development, a core process that enables us to work quickly and efficiently whilst maintaining quality, readable, documented and easily understood code.

Technology

We have a simple philsophy when it comes to choosing technologies to use on our projects. Use the most suitable technology, not the first one that's suggested.

For such a small team, we have an extremely broad knowledge of  programming languages and technologies. Our specialisms include: React, React Native, PHP, Node.JS, MySQL and Kubernetes. These languages enable fast efficient coding of robust products enabling flexible integration with other platforms.

Testing

Combining our test driven development methodology, we make sure that with each feature we write, we take quality assurance extremely seriously.

Each product we build is tested against clear criteria and cross browser/platform tested to ensure the best experience for your customers. Where appropriate we work with security professionals to carry out penetration and data integrity tests on our codebase to ensure security.

Launch

When a product is launched it's much more than a big red button. We understand how important it is to you, that when we launch a product, it's right first time.

We ensure your live hosting architecture is capable, flexible and scalable enough to handle growth before migrating what we have built onto it. We take time to meticulously plan our go live processes to ensure a smooth transition from testing to live.

Support

Once we've built it, we offer a go live support, ensuring no issues occur immediately after launch. We also offer ongoing support, to give both technical guidance and advice as well as ensuring that any problems, bugs or issues are fixed quickly as and when they occur. We hope to build long lasting relationships with the people we work with, offering you the help and support you need as your product grows.
Marketing & Activation
Paid Advertising

When you're ready to start your paid advertising campaign, we can help you find the right keywords and audience for your product. We'll dig into the data and come up with a plan that will help you reach your target audience.

SEM

Search Engine Marketing (SEM) is a great way to get your business noticed online, putting you in front of the right people at the right time. We'll setup and manage your SEM campaigns so that they target your ideal audience and get them excited about coming back to your site—and buying!

Social Media Advertising

Social media advertising is a great way to get your message out there and make people aware of what you're doing. We can help you create a strategy for how to best use social media advertising and make it work for your business.

Strategy

You've got a great idea for a business, but you don't know how to get started. You need a strategy. Building an online business strategy is the first step to getting your business off the ground.

Content

We'll help you create the perfect messaging for your brand! Whether it's writing website content, social media content or long-tail blogs, we'll create engaging and informative content tailored to your needs.

Email Campaigns

Creating email campaigns that get results. We know what works and what doesn't, and we'll make sure your campaigns are optimised for maximum engagement. We work with your team to determine the right timing, format, and content for each of your campaigns.
Growth Consultancy
Training

We know how hard it is to get your idea off the ground. There's so much to learn and so many different pieces that need to come together at once. We can help make your dream business a reality by giving you the training, tools and resources you need to succeed.

Consultancy

We help you start, grow, and scale your business by offering insight into what's working in the marketplace, identifying gaps in your business strategy, and helping you map out a plan of action around those ideas. We work with you to turn your ideas into reality—and we get excited about the process just as much as you do!

Workshops

We're here to help your business grow. Our workshops are designed to help founders and entrepreneurs feel more confident about themselves and their businesses. Giving you the tools necessary to take your business from start-up to success.
Full service partners
Our full-service digital agency partners benefit from having our entire set of services and resources right at their fingertips. We are at one with your business and an extension of your existing resources.
We bring our expertise, passion and enthusiasm to help you achieve your goals, closely working with your team to deliver digital growth.
Book an introduction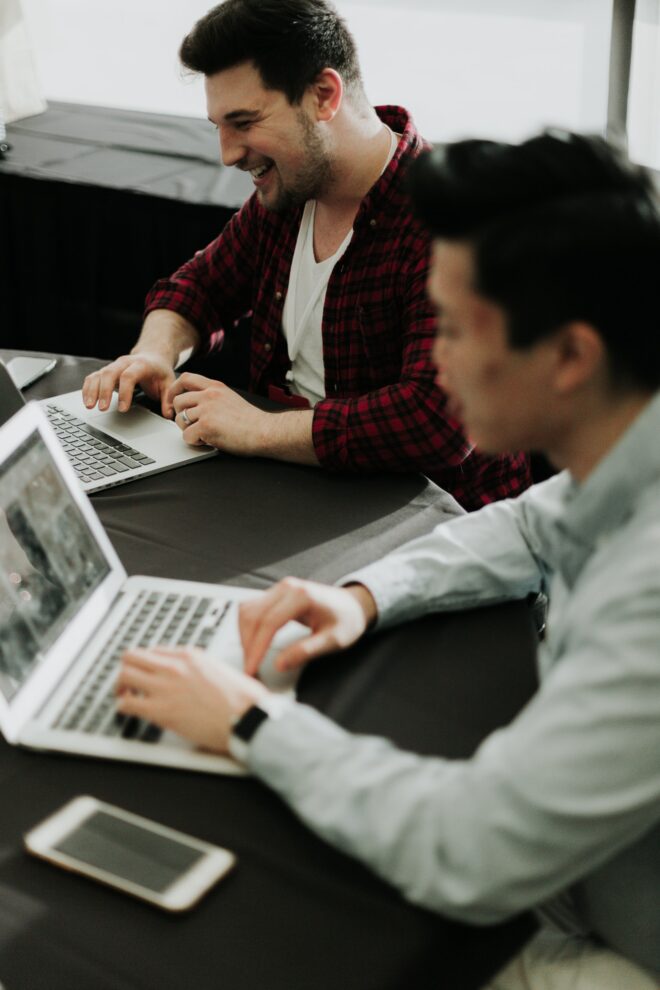 We'd love to hear from you.
The best way to speak to us is to just drop us a line. Feel free to use the details below.